Introduce analytics to your day-to-day with Reports! Users can schedule their dashboard results to be sent to other Indicative users, executives, or external partners and stakeholders. Once a report is created, your dashboard will refresh at the selected date and time, and a PDF will be sent to the selected individuals. In addition to the PDF snapshot, Indicative users may access your dashboard to view results in real time. Any teammate with access to your Indicative project can create a Scheduled Report for an existing dashboard.
Manage your Reports
View your existing Reports by choosing the Settings cog wheel icon within the left navigation menu and then selecting Scheduled Reports from the top menu.
Here, you can view all of your organization's Scheduled Reports in a table format, including the following information:
Report Title

When (Time Zone)

Creator

Created (Time Zone)
Additional report actions are available while hovering the mouse over this table, including:
View Dashboard

Edit Settings

Unsubscribe

Archive

Delete
Archiving and Deleting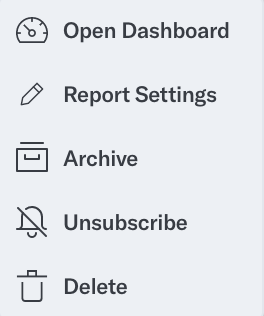 Archiving and deleting are the two methods of disabling an existing scheduled report.
Archiving will disable a report indefinitely. You can access your archived reports using the dropdown filter in the top right corner of the Scheduled Reports settings. To unarchive a report, hover over the relevant row, then select Unarchive. Using the filter dropdown, you may access reports that you have created and also reports shared with you. Finally, you may search reports using keywords in the search bar in the top right corner.
Deleting a scheduled report is permanent and irreversible. Only do so if you are sure that the report is no longer relevant. The underlying dashboard will remain, but the report will be permanently deleted.